Cockburn attended last night's State Banquet at Buckingham Palace disguised as a footman in livery, carrying a tray of sliders and Cheez-its with a recording device hidden in his wig. What a swellegant, elegant evening it was — until the president and First Lady posed for the traditional photograph with wax effigies of Queen Elizabeth II and Prince Charles. Melania Trump was elegant in Dior, but Donald's regulation white tie and tails was less Fred Astaire and more Fred Flintstone. Where did he get that coat? And what about the diplomatic fallout from those enormous pants?
The Prince of Wales, The Duchess of Cornwall @ClarenceHouse The Duke and Duchess of Cambridge @KensingtonRoyal, The Duke of York and The Earl and Countess of Wessex are also in attendance at the #USStateVisit banquet at Buckingham Palace. pic.twitter.com/rSWSNV1FKn

— The Royal Family (@RoyalFamily) June 3, 2019
After dinner, Ivanka said she still felt hungry. Cockburn guided her and Jared to a kebab stall near Piccadilly Circus, before plunging deeper into the pit of depravity and filth that is Soho. Rising early from the gutter, Cockburn sought out his tailor, Chris Kerr. Chris has dressed Tony Blair, Bill Clinton and Margaret Thatcher — that's Michael Sheen and Dennis Quaid in The Special Relationship, and Meryl Streep in The Iron Lady. Looking at the pictures of the banquet in the morning papers, Chris was not amused.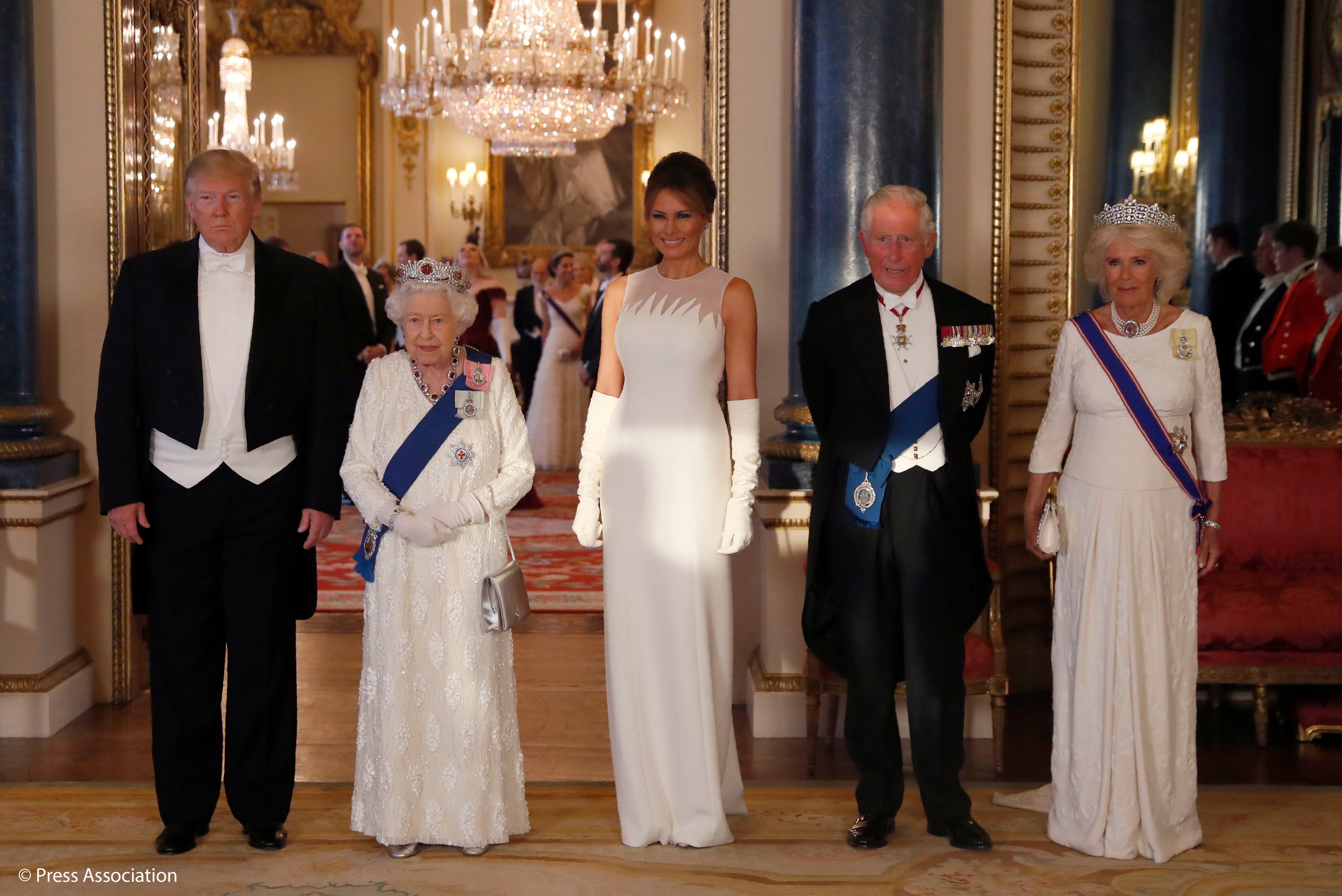 'Those trousers are just wrong,' Chris says. 'They've clearly been bought, and not made. They're about four inches too long. They're perfectly straight, about the same size at the top as they are at the bottom, and they're probably about 20 inches at the ankle. He probably thinks it covers up a certain amount of fatness, that if he has wide-bottomed trousers it'll disguise the width of his hips and waist. If anything, it does the opposite when they're that straight'.
'The white tie is just abysmal,' Chris reflects. 'The trousers are a similar cut to chinos. I suspect they're not high-waisted, so he's had to get an extra-long waistcoat to cover the top of the trousers. So now you've got at least four inches of white showing between the coat and the trousers. Look at Prince Charles. With proper military fashion, you don't see any white in between, and the coat is just covering the waistcoat.'
Chris considers Trump's innovative display of snowy acres of waistcoat. 'That waistcoat must be buttoned around his crotch. He's a big guy, but there's no excuse not to have something that fits. Now, a lot of men these days do wear white tie with about in inch of white showing. It can frame the coat, and it can look nice. If you're Fred Astaire, it'll accentuate the length of your legs. But not four inches.'
If Trump's trousers and waistcoat are too big, his coat is too small. 'That tail coat is appalling. The sleeves are two inches too long, the jacket body is three inches too short. The tails are five inches too short. The whole thing is just short and boxy.'
'The tails are meant to touch the back of your knees, but they're on his mid-thigh,' Chris says, more in sorrow than anger. 'The whole coat is way too short for him. Why would he do this? The whole thing is just so wrong, on so many levels. There's a fellow in the background, looking at him and smirking. I can imagine he's thinking, "What a twit!"'
Chris suspects Trump's chino-like dress trousers are inspired by his golf outfits. 'That's Biff from Back to the Future,' he confirms. 'But what's happening around his ankles? They're at least three inches too long. He must be treading on them. They'll be filthy within 10 minutes. The polo shirt and the chinos work together as colors, but then there's the brown belt with white shoes. God knows what that's all about. And then a bland midnight blue jacket. It's Biff in Back to the Future 3, when he's the town mayor.'
A man and his tailor have a special relationship. There's still time for Donald Trump to start one.